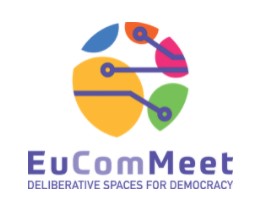 EuComMeet project
The EuComMeet project, funded under the Horizon 2020 programme last March 2020, has the objective to develop innovative spaces for participatory deliberation by adopting an innovative m4d2 (multi-stage, multi-level, multi-mode, multi-lingual and dynamic deliberative) approach.
The EuComMeet project explores under which conditions deliberation and representation can be an effective "response to the challenges besetting liberal representative democracies."
To tackle this challenge, the project has a two-fold objective-based strategy:
Experimenting ways of systematically embedding deliberative practices and institutions in the multilevel system of governance and representation of the European Union;
Exploring how deliberation and participation can help reduce polarization, strengthen European identity, encourage inclusiveness, foster citizens' reflectivity and narrow the representative gap between policymakers and citizens.
TOUR4EU is work package leader for the communication and dissemination activities of the EuComMeet project and it will coordinate and carry out all the activities for an effective dissemination of the results and a communication of project's achievements to a broader audience.
TOUR4EU will implement the following actions:
– Communication plan;
– Co-design workshop;
– Participation to EU, national conferences/events and Promotion to national media and stakeholders;
– Project's website and social media profiles linked to EU initiatives;
– Project's corporate identity;
– Communication events at the EU and the local level.
Usefull links :
Website: https://www.eucommeet.eu
Twitter: https://twitter.com/EuComMeet
Facebook:  https://www.facebook.com/EuComMeet/
Linkedin: https://www.linkedin.com/company/76796196/
Instagram: https://www.instagram.com/eucommeet/